Warning: You may not want to read this if you're hungry.
INTRODUCTION
Over the last couple of years, I've been really interested in seeing how the event world is changing and how events themselves are evolvoing. Because, just like any other business, brand or individual, everything is a cycle, so to stay ahead, we have to constantly re-invent ourselves. Events are no different.
This led me straight to Gillian Zettler and the Charleston Wine + Food Team. It's fascinating to see and hear how they are approaching things in Shucktown, USA. You don't want to miss this.

The Charleston Wine + Food Team
Why Charleston Wine + Food you ask?

Well... if you've been to the event in the last few years, you wouldn't need to ask. But with event names like:
50 Shades of Earl Grey

Chicken S#!T Bingo

Queens on King

What the Pho?

Wake and Bake

Pollination Proclamation

Namaste Bubbly

Pinot NV!
They definitely got my attention.



Photo Cred: Abby Murphy Photography

However, I think it's important for everyone in the event world to take notice, that they're not trying to be like everyone else, or trying to be the biggest. They're basically doubling down on the city, the region, the people and their team's creativity to produce an unforgettable experience each year.

What I was excited to learn from Gillian was:
Where and how they get their inspiration.
How she approached the role of Executive Director the first year she took the reigns.
How and why they take such a unique approach to sponsors?
Her tips on dealing with so many different personalities (from chefs, to restaurant owners, to vendors, volunteers, etc.).
Her Wine and Food Festival State of the Union Address.
Her advice on leadership, career and more.

BTW - they are an incredible partner of ours. So feel free to check out what we're doing together: HERE'S AN OVERVIEW

Now that's some Paella. Photo Cred: Charleston Wine + Food
You ready do this Gillian?
Heck yeah. Let's do it.
Where did you grow up?
I was born in Long Island, New York, but, at the age of six, we moved up to Vermont, so I'm a New Englander.
Big Family, Small Family?
I come from a big Italian family. I'm the oldest of four, and my dad's the youngest of eight, so I have over 30 first cousins primarily on my dad's side of the family. Music was huge in my household growing up, my parents are big Deadheads and Beatles fans, and we're a Yankees household, so it was always music and always baseball.
What was 15 year old Gillian Like?
As a kid, I was always the leader of things, and liked to make things happen. I was lucky because I have parents that wanted me to be whatever I wanted to be, so- anytime I had an itch to try something, they let me. I had a bug for being involved in everything possible, so, probably over-extended at 15.

And now?
Now, I try not to take myself too seriously. I am fearfully loyal, sometimes to a fault, and headstrong... but patient, I think. The patient part came later in life, but has definitely become paramount to who I am.
Photo Cred Gillian Zettler's Twitter: @GTrim626

I understand you went to Clemson. So I have to ask:
If you we're tailgating for a Clemson game and picked up some local favorites, what would be on the menu?
Pimento Cheese, Boiled Peanuts and Fried Chicken. I was lucky enough to have friends with an unbelievable tailgating spot next to the Esso Club in Clemson - nothing was better than celebrating a win with a cold beer all of that salty goodness. Go Tigers!

Photo Cred: Esso Club, Clemson, SC

How did you end up with the job of executive director at the Charleston Wine and Food Festival?
I was an education major at Clemson, so I didn't ever really anticipate being in events when this whole train started on the tracks. I was running a smaller food, wine, and music festival in Greenville, South Carolina called Euphoria, which was an event that I loved. And I was really happy living in Greenville, but, when the founding executive director of the Charleston festival left, I felt like it would be really silly to not throw my hat in the ring for something so close to home in such an amazing food city. I mean I'm always working to make things better, but it seemed like a really big professional challenge, from a logistics standpoint, because I'd kind of mastered a really safe rhythm in Greenville. They had a lot of applicants, and it took over six months from the first application to finding out that I got the job. I figured, what's meant to be, will find a way; and it did!

Gillian spreading her wings. Our literal sit down to discuss producing the Charleston Wine and Food festival
How has your focus changed as the Executive Director from your first year to now?
In the first year that I was here, it was just about putting on the event. It was a completely new team from top to bottom, and that happens naturally sometimes with a change of leadership. By the time our brand new team was in place, we were 60 days out from the launch of ticket sales, and only six months out from the event. The main goal at that point was rallying people together to understand what their roles were, what the timeline looked like, and to pull it off.

That's changed a lot, because, last year, even there were still like logistical hiccups, it finally felt like we were driving the boat, and we weren't being pulled on water skis in the back. The programming was stellar, the talent was amazing, and then we had the added benefit of really pristine weather all five days, which is always a good thing too.



Photo Cred: Charleston Wine + Food

What would you say are your top three priorities as executive director this year?
I think that the number one priority for me is that our festival always feels like it maintains a sense of place. There are a lot of really great food events, and at this point, there are wine and food festivals in every corner of this country, but I want to produce an event that feels like it couldn't take place anywhere else.

I think we've got really savvy consumers too, so we've challenged ourselves to deconstruct the event schedule year after year, so that 85, 90% of what you saw last year won't be on the schedule for this year... and the things that do return, still seem fresh and interesting.
I think it's about really innovative programming, things that aren't just fun- but are informative, and maintaining that sense of place are definitely on my priority list.



Photo Cred: Andrew Cebulka - Charleston Wine + Food's Chicken Sh#t Bingo Event.

You came in with a pretty unique approach to sponsors. How did you come up with it?
Well, I think it might be the road less traveled, but, we create every proposal from the ground up. My dad was in customer service all his life, and, in long car rides I would hear him on the phone doing more listening than talking… and I think that that's the approach that we try to take with the people that we work with.

We could give you lots of analytics on our marketing reach, we have really great metrics and all of that good stuff, but I try to get an understanding of what people are trying to accomplish on the front end, rather than trying to retrofit them into a one-sheeter.

When you plug them into a category like "You're a gold sponsor, or you're a- blah blah blah," I find, generally, people either end up not being super happy, or there's a lot of, "Man, I really wish I could have done X, Y, and Z." So, when people ask us if we have a sponsorship deck, our answer is no.

For the people that we've established really great relationships with, sometimes the ideation around the event schedule for the next season of the festival comes into play from the very beginning.



Charleston Wine + Food Sponsor Activation: Namaste Bubbly


To learn how Charleston Wine + Food is using LENND to streamline event operations:
CLICK HERE


Le Creuset Sponsor Activation - via Shucktown, South Carolina - Photo Cred: Charleston Wine + Food

Is that how you find inspiration? What else does your team look for?
Many times, for our inspiration, we look to chefs in the community who have been inspired by something. A perfect example is John Lewis from Lewis Bar-B-Que, who moved to Charleston from Austin, Texas, a couple of years ago. We did an event in 2016 called 'Chicken Shit Bingo,' which was completely born from something that he saw happening all the time in Austin, so we collaborated to put together a crazy event to mimic that here.



Another Chicken Shit Pic (Chef Sean Brock, Richard Martin of Food Republic and "The Beer Can Professor" pictured)

Or, sometimes the team is really drawn to wanting to talk about something,
This last year, the Zika kind of worry that was going on, and they were doing some spraying that ended up hurting a lot of major honeybee hives in the state of South Carolina.
So, we decided to do an event that was focused on the importance of honeybees in the ecosystem. We partnered with the National Honey Board, who had someone here to speak on the educational side of things, while we had local beekeepers forage for honey at a local farm, all of which ended in a lunch at a local restaurant where they infused honey into cocktails and the cooking.



A memroable sponsor activation - Photo Cred: Charleston Wine + Food

Inspiration comes from all over. For me personally, a lot of times, it does not come from food related events! I certainly like to see what other people in my fields are doing, but sometimes the most innovative things have been spawned from being somewhere entirely different; like, more lifestyle-driven or even fitness-driven events!

I just think, surrounding yourself with people who don't do what you do all the time gets you out of your comfort zone, and has you think about your programming in a different way.




What has been one of your favorite projects?
I was really proud of the Honey Board partnership. It felt really meaningful.
I use that as an example a lot, but, there's so many different types of experiences that you can get at the festival, and the best partnerships are really dynamic. You get someone with a touch-point in the culinary village, which is really big and boisterous, and full of a ton of people, and live music, there's a ton going on, but then you juxtapose that with a really intimate foraging excursion... where people get to throw on a beekeeper suit and learn about bees, the ecosystem, how bees contribute to it, and how the honey is made, that gets bottled and put on your table.

That, to me, is super cool. The last thing I'm into is slapping a logo on a sign, and putting it somewhere on our landscape, we just don't do that.

The thing is, it's really easy to say, 'Yes!' to someone who's throwing a check at you, but, the best partnerships and relationships that tend to grow, are when if it makes sense for both of you.
With no disrespect to certain brands, that's actually one of the trickiest things to navigate when you're trying to maintain a sense of place. You don't want things to feel overly commercialized, but you have to make sure you're not stifling growth overall. It's a really delicate balance to strike.

I'll give credit to the founding folks within the organization, in that, they saw the influence a festival can have, economically, early on; even though it's the only event in Charleston that has done that since its inception. The business school at the College of Charleston has a wonderful, wonderful group of professors that do an economic impact study for us every year. This past year, it was $9.6 million in five days. And it's really cool to be able to see those numbers.
Five years ago in Charleston, the number one reason that people were traveling to the city was for historic tourism, now it's being edged out by culinary tourism.




When you decided to try this, customized partnership approach, were there any concerns? What would you say is your number one operational challenge?
Right now, for us, the biggest difficulty is bandwidth. We're a small team, and we're trying to take time and care with everybody we're working with. When you are a tiny team, there's only so many places you can be, and - with over 100 events, the reality is- I don't see everything that we do over the course of the five days. So, you've engaged a partner, they're really excited, you've created this great idea together, and you've even got all the logistical things in place, but then- you've got to make sure they're taken care of on the ground.

We've had to really fine tune our systems over the past few years to figure out how to care for all those people, and making sure that our partners aren't dealing with five different people based on whatever it is they're trying to work on. That makes it difficult, but I do think it's reaped dividends for us.



Photo Cred: Abby Murphy

As somebody who's making decisions around the budget, why not just add more resources?
All of that stuff has a trickle down effect, so if you add more people, you've got to have more revenue, so is that coming in the form of tickets, or is it coming in the form of sponsors? I've tried to make it a top priority to have variety in our ticket pricing. I think one of the things that kind of plagued wine and food events all over the place is that it's only for rich white people, and we work really hard to have diversity in the ticket pricing, so we can have diversity within the event, and not ostracize anyone.

We had a Daniel Boulud Legacy Dinner with a room full of his phenomenal proteges last year that was $1,500 a seat -and it sold out; But, we also did a $40 event called Pechacucha, which was all-inclusive, with a food truck, beer and cocktails, and a rapid-fire, hip version of TEDX… and that sold out as well.



Daniel Boulud Legacy Dinner: Photo Cred: Charleston Wine + Food

The whole idea is that you can create your own version of what Charleston Wine + Food will be, and what it might look like for me, may be totally different for you. And that's totally cool.

Charleston Wine + Food, "From the Ashes" event.
How many volunteers do you manage for the festival?
We have over 500 volunteers that participate during the festival weekend. That is a beast of a job to manage. We have an elite fleet of volunteers that we call our VIP committee, and those are mostly local, some are not. Crazy enough, we have some folks that like travel to be volunteers with the festival every year. Then, we have volunteer captains that spend time with the staff for behind the scenes training, so that they really become the main ambassador at a certain function throughout the weekend- (be it the ticketing tent, our opening night event, our finale event, or whatever!) They just know a little bit more than the day-of folks, and they can create a buffer for those volunteers that may want to go to a staff member with everything.

The Charleston Wine + Food Volunteers prepping for showtime.
What is the main thing you tell them?
There's two things that I usually say when we do our volunteer training days.

One is that you want people to feel like they're having fun. The volunteers are the front line of defense for us in a lot of scenarios throughout the weekend, so- you want them to be able to have some fun while they're out doing whatever they're doing, and feel ownership over what they do. (Especially in some of the like less glamorous volunteer duties.)

We always emphasize being patient, and gentle, and kind... because we live in a world where that's not necessarily what everybody is feeling right now. We say, "If you see something that you can do to make a guest's experience really fantastic, do it!" You get people rallied together and feeling like they're contributing something really awesome to their community, and we work to empower them to make someone's day. No one on our staff is ever going to bat an eyelash if you gave someone an extra piece of glassware, or a tee shirt because someone spilled a glass of wine on them, or whatever it may be. Empowering the volunteers to do the right thing is a really big deal.

Charleston Wine + Food Event Volunteers. Photo Cred: Charleston Wine + Food

It seems like more and more food festivals are popping up, maybe it's just becoming more trendy. Is it getting more and more competitive to pursue talent?
I do think that it's harder to schedule, but we haven't felt the pains of competition. I've made some really good friendships with folks that are in my shoes in other places around the country, and it does not feel like competition! It's not just about producing a flashy food event, it's showing off the best of whatever each community might be composed of. I don't feel like I need to keep industry "secrets" close to the vest. Being a person that likes to be a connector, and to share best practices, that's something that I look for in all of my current team members, and when we go to hire new people. It's just that, it feels really good when you can connect people to organizations, or businesses, or partners, or other members of talent, and then they can take that relationship and spin it off and do something else... that's really special.

But, that is a constant balance to figure out: what is your personal investment with your professional relationships? You're having people come in, and you may be underwriting their accommodations and travel, etcetera, to get to you, and to make your event a success; But, you don't want to overwork people! I want them to experience Charleston! They may be a marquee player, who is here to participate in the event, but if they have a great time, and they fall in love with this city, and they make their own relationships here, that's equally beneficial for us- because they will enjoy coming back. In my opinion, that's a big part of producing a great food event in your community.

Photo Cred: Charleston Wine + Food

Do you have any tips for dealing with different personalities in your vendors, chefs, restaurants, wineries?
Most of the time, if people are frustrated about something, they just want to be heard. Because you can never control everything! So... flexibility is huge. When people are pissed off, if you can just stay calm and let people know that you're listening, and you're going to just be the world's best problem solver for them... most people are pretty understanding back.

I preach patience, gentleness, and kindness. I want to work with, and know that the people who are working for me- are good humans... and that we are trying to take care of the people that take care of us. There's lots of great event producers out there, but, you don't need to be an asshole when you do it. (Pardon my French!)
I want to work with, and know that the people who are working for me are good humans.
What would you say is the number one leadership lesson you've picked up over the years?
As a leader, you want to surround yourself by people who are smarter than you- and have skill sets that you may not have.

How can you be a great team member and not get nasty when you're frustrated? That's the number one thing for me. To create really great event professionals that, at some point, go off and run their own show, with a great team of people who practice that patience, gentleness, and kindness model as a top priority too.


As a leader, you want to surround yourself by people who are smarter than you.



Photo Cred: Charleston Wine + Food

In your work life, are you insecure about anything?
Sometimes I feel like that I'm never satisfied, like there's just always something that I think, "Man, maybe I could have done that better." But, I've heard that that's a feeling that exists with a lot of folks in my position. You know, that's what keeps me being innovative and re-imagining things and wanting to do more. Event burnout is super easy to happen, so, I think that my biggest anxieties usually come in because I want to take really good care of my team.
When you're planning the same event year after year, you want to make sure you're providing opportunities to challenge your people and allow them to grow and experience the things that get them excited and keep them around.

If you were to give a food and wine festival State of the Union address to every person in the food and wine industry, what would be your top three topics?
FIRST: One thing that's really important to me right now is trying to solve this puzzle about wastefulness. We made it a top priority this year to try to figure out how to reduce waste, even though we knew we weren't going to solve it in a year. We work really closely with Vertera, which is compostable plate-ware. It's made from fallen leaves, and it completely biodegrades within two weeks, so that's a big step. There's already a lot of things that we do to take steps in that direction, like- using a lot of commemorative glassware. That's really expensive, but, having a takeaway glass means that someone will reuse it, and if they don't, then it's glass and at least we can recycle it.

But when you're a food festival, your charitable initiatives are a little bit different than others. You're producing this big event and you want it to be great for the community, so- the last thing that you want is to be perceived as super wasteful. It's a major initiative in the food world right now too, and we need to work together to solve that problem- so we can keep producing great events, that aren't detrimental to our planet. That matters to me.
SECOND: In the spirit of being collaborative... it's not just about us having the best event, I want to have tons of fun events to go check out and participate in. I think the more that people focus on what makes them unique and original and special, wherever their events take place, then I think all of our events will be better overall.


THIRD: I would say... if anyone could figure out for me how to solve the badging process, then they would be my hero. Badging and credentialing is insane on our end, and it's just the eternal thorn.

Hmm - I might know a guy :)
Hah - me too. We're excited to work with you this year.
____________________________________________________________________________
Transform your credential process with LENND: CLICK HERE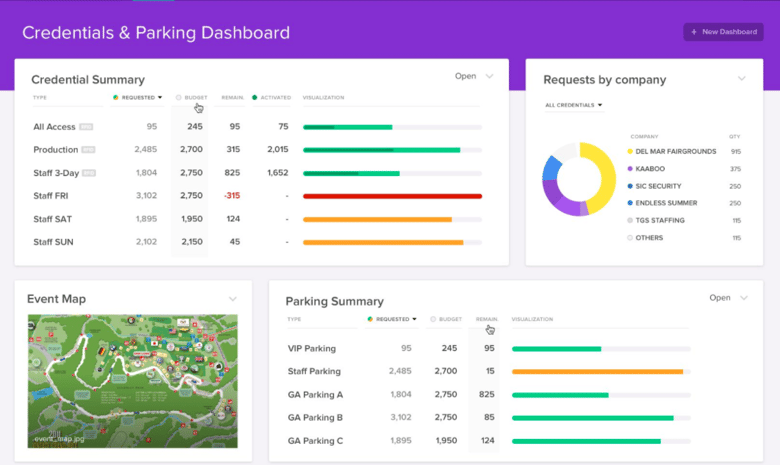 LENND's comprehensive platform helps event teams manage all aspects of the logistics and operations process. From incoming requests, approvals and management of inventory needs and credentials, to document management and tracking, to production scheduling, workforce management and more. The future of event operations is here.
____________________________________________________________________________

And a little bonus question:

If you were to take the team out for a late night meal, what are yout top 5 options and why?

Leon's Oyster Shop - because the food is fantastic and Brooks Reitz knows how to curate an amazing space and a seriously good playlist. You can't help but be happy eating at Leon's.


The Macintosh - The service is excellent and the french fries are the best. Sitting on their back patio by the fire is great any time of year! If the Deckle is on the menu - it's a must.




The Windjammer - Beach dive bar with great live music… no frills, laid back and the burger with tater tots = summer staple.




Kanpai - My favorite sushi spot in Charleston. It's a teeny, tiny, family-owned spot. The best way to enjoy is ordering a ton of food to share. It's also BYOB so you can bring your favorite beverages and it feels just like you're having a killer meal at home.

The Ordinary - The space is gorgeous and so is the food. The seafood tower is one of the most fun things to order with friends. Late night… oysters… rosé. Yes. Please.



PREVIOUS INTERVIEWS:
Rugby World Cup Sevens 2018: Sarah Hawkins, Director of Marketing and Communications(READ)
LA2028 (Part 2): John Harper, COO (READ)
LA2028 (Part 1): Danny Koblin, Chief Bid Officer (READ)
Possible Productions: Michael Figge, Director (READ)
Comic-Con: David Glanzer, Chief Strategy Officer (READ)
SXSW: Hugh Forrest, Director (READ)
Boston Marathon: Dave McGillivray, Race Director (READ)
IMG: Tobias Sherman, Global Head of eSports (READ)
Presidential Inauguration: Steve Kerrigan, Chief of Staff & CEO (READ)
HUKA Entertainment: Rachel Pucket, Digital Marketing and Social Media Manager (READ)
The Adventurists: Dan Wedgwood, Managing Director (READ)
Wasserman Media Group: Zack Sugarman, VP of Marketing & Digital Media (READ)
Electric Daisy Carnival: David Chen, Director of Technology (READ)
Firefly Music Festival: Christiane Pheil, Director of Programming (READ)
Charlotte Motor Speedway: Garrett Carter, Manager of Event Operations (READ)
RiSE Festival: Dan Hill, Co-Founder (READ)
Wanderlust: Heather Story, Senior Director of Event Operations (READ)
New York City Wine & Food Festival: John Trumble, Managing Director (READ)
KAABOO: Taylor Gustafson, Director of Ticketing & Credentials (READ)
KAABOO: Brian Wingerd, SVP of Marketing (READ)
Las Vegas Police Department (Events Division): Rick Nogues, Sergeant (READ)
Los Angeles Marathon: Murphy Reinschreiber, VP of Operations (READ)
BWG: Leo Nitzberg, Co-Founder (READ)
Rock N' Roll Marathon: Ted Metellus, Director of Course Operations (READ)
Governors Ball Music Festival: Tom Russell, Co-Founder (READ)
Superfly (Bonnaroo & Outside Lands): Kat Tooley, Senior Director, Event Production (READ)
Firefly Music Festival: Megan Marshall, Assistant Director (READ)
The Enthusiast Network: Scott Desiderio, VP of Event Ops (READ)
Sea Otter Classic: Frank Yohannan, Founder (READ)
Big Sur Marathon: Doug Thurston, Event Director (READ)
Summit Series: Cara Bubes, Event Director (READ)
Color Run: John Connors, VP of Experience (READ)
TechCrunch Disrupt: Leslie Hitchcock, Event Director (READ)
Boston Marathon: Matt West, VP of Operations (READ)
Academy Awards: Cheryl Cecchetto, Production Director (READ)
RunningUSA: Christine Bowen, Event Director (READ)
Charity Ball & Charity Water: Lauren Letta, Chief of Staff (READ)
Electric Run: Latane "Big Bird" Meade, Co-Founder (READ)
Color Run Australia: Luke Hannan, Event Director (READ)